Great British pub classics rub shoulders with innovative creations on the newly-launched menu at Cheshire pub The Yew Tree. Ben Ackland, head chef at the free house, in the idyllic village of Bunbury, near Chester, worked closely with local suppliers to create seasonal dishes using the finest ingredients available.  
From delicious 'chicken and mushroom vol au vent with truffle cream' to succulent 'pan-fried sea bass', the 19th-century rural pub is stepping into spring with a host of indulgent courses.
Regulars and friends of The Yew Tree, together with social media influencers and the press were invited to sample the new menu at a launch event on Thursday 21st March. The guests chatted over cocktails and also enjoyed live acoustic entertainment.
"The launch event was a huge success," comments Ben. "It was a chance for us to find out what people think, and I'm pleased to say the new dishes have been given a clear thumbs-up."
On the new menu, he says: "When it comes to cooking, my style is very much modern British, so my goal was to revive classic pub dishes by adding quirky elements influenced by my travels around the world. I couldn't resist throwing in a few curve balls to surprise both our regulars and our new customers.
"I've also adapted two of The Yew Tree's signature dishes, the 'beef and Weetwood ale pie' and the 'farmer's mixed grill'."
Ben, who recently joined The Yew Tree, brings with him global experience and an impressive CV. His career spans iconic establishments such as The Ivy and Soho House to multi-million-pound venues in Texas and private dining on the Côte d'Azur.
He says: "When I arrived, I wasted no time in introducing myself to as many local producers as possible.
"I've been blown away by the quality of the produce in Cheshire and surrounding areas and have made a conscious effort to include as many of these items within the new menu as possible. You'll find Burrows' award-winning Cumberland sausage and also Cheshire Farm Ice Cream."
For those who enjoy sharing small plates, tasty dishes include 'chef's onion rings with Bloody Mary ketchup' and 'haggis sausage roll with whisky mayonnaise'.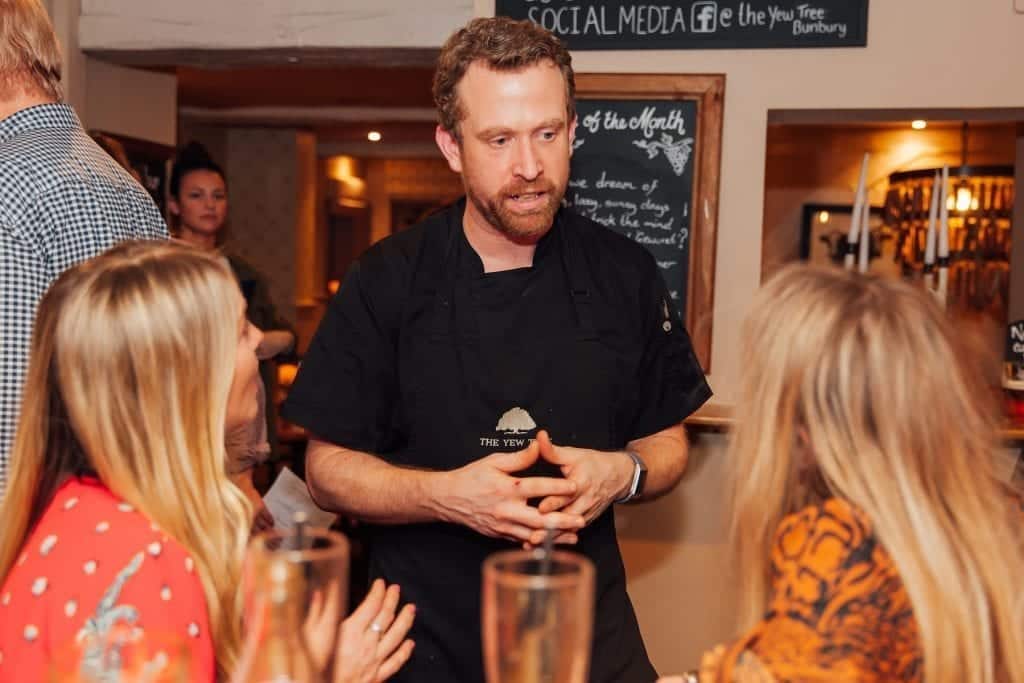 Meanwhile, 'pan-fried scallop with crispy black pudding, smoked bacon and baked apple jam' features among the starters.
For the mains, choices range from the 'Bunbury burger' (a smoky maple bacon cheeseburger) to 'Joinson's 28-day dry-aged ribeye steak'.
Vegetarian and vegan dishes also feature, such as 'Waldorf salad' and 'baked aubergine and tomato gratin'.
But diners should remember to leave room for dessert because the sweet courses are also hard to resist, especially the 'Baileys crème brûlée' and the 'chef's homemade carrot cake'.
Ben adds: "Creating the menu involved a long process of making notes, experimenting, sourcing ingredients and, the best bit, the tasting – and I'm proud of the finished result.
"For anyone new to The Yew Tree I'd recommend the haggis sausage roll, vol au vent, scallop, pie or mixed grill – it's too hard to pick just one!"
Sam Evans, general manager at The Yew Tree, said the new menu was a "hit" with pub regulars and foodies alike.
He says: "Word is spreading fast, not only in the local area, but further afield, and the feedback has been extremely positive.
"Ben has created an imaginative, tasty range of dishes by putting a clever twist on traditional pub grub. And when you couple the menu with our extensive selection of cask ales and wines, we're really pleased with what we've achieved."
Now owned by the Chester Race Company, it's not just The Yew Tree's menu that has been given a revamp. The pub's interior has also undergone a makeover, to give it a home-from-home feel.
And with dogs' welcome at the bar too, it's the perfect location for a drink or meal, before or after an invigorating walk in the picturesque Cheshire countryside.
Find out more about The Yew Tree and its new menu at https://www.theyewtreeinnbunbury.co.uk/