Chester Racecourse has always been a leader in Chester and now with plans to welcome back visitors it is leading the field in the UK.  Find out more from Chester Racecourse here …
MASS ON-SITE COVID-19 TESTING FOR EVERYONE AT BOODLES MAY FESTIVAL
The oldest operating racecourse in the world is today planning to become the first in the UK to welcome back visitors.
And it promises to be a unique and new experience for everyone attending its famous Boodles May Festival.
Chester Race Company Ltd are utilising the latest technological advancements and currently working on a mass Covid-19 testing programme, in anticipation of crowds returning to the Roodee once again.
This would see everyone attending the three-day festival from May 5th to the 7th, receiving a lateral flow test upon entry and enjoying fully socially distanced raceday experiences throughout the day.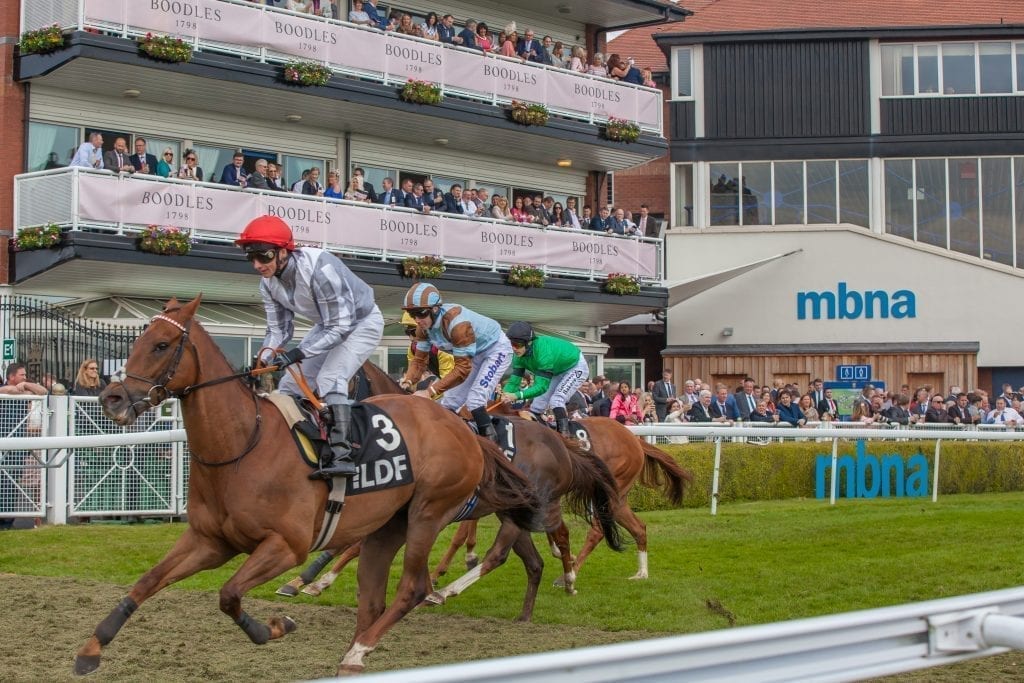 Chester is hoping to become the first racecourse in the country to welcome back race-goers for the May festival – and if Government guidelines allow – it is hoping up to 5,000 guests will be able to attend on each of the three days.
With the safety and well-being of all guests of paramount importance, Chester Race Company is currently drawing up a series of plans in preparation for the Government's road-map announcement.
The racecourse plans are revealed as the site becomes the first NHS large-scale Covid-19 mass vaccination centre in the borough, from today. (Monday, February 15th)
The centre is expected to deliver thousands of Covid-19 vaccines every week to residents across the area in key priority groups as part of the national vaccination programme. It will operate seven days a week by appointment.
Richard Thomas, Chief Executive of Chester Race Company, said his team would be supporting as volunteers to help to deliver the facility.
He added: "We were really keen to ensure that our local area could benefit from a mass vaccination centre and are very pleased to be able to support the NHS with their essential vaccination programme.
"Meanwhile, in anticipation of the Government's road map announcement, we have been working very hard with local authorities to build a clear operation procedure plan that hopefully could allow us to safely welcome back a limited number of spectators for the Boodles May Festival.
"The delivery of mass on-site testing is at the core of our stringent health and safety measures. Chester Racecourse could provide on-site testing facilities for 5,000 attendees per day with results expected in less than 20 minutes.
"Our overall aim is to deliver a safe, secure environment for an enjoyable three days of racing and we hope that testing will give an added confidence to our attendees, customers, and staff, whose health and safety is of paramount importance.
"We're proud of our innovative approach here at Chester and are keen to be one of the first venues to be able to bring crowds back safely to live sport.  Chester is known for providing a unique race day experience for all attendees and we have developed a number of new socially distanced concepts which will deliver an exemplary level of safety and service – while ensuring the experience is the very best for all of our customers!"
If Government allows the festival to go-ahead, all race-goers would receive food and drink table service.
There would be designated seating areas for everyone, with all-weather cover, giant screens to ensure everyone is able to get close to the racing and even personal book-making facilities.
Contactless order and collection points for food and drink would also be implemented across the course, with staggered arrival and departure times for guests, multiple testing areas and a one-way system in place.
Richard added: "It will certainly be a "different" racing experience this year – but it will be a very special one with absolute attention to detail to ensure our race-goers have the best experience possible – something we pride ourselves on always delivering here at Chester Racecourse.
"We will of course be operating within all Government guidelines and hope the new experience which we are offering will be something which is welcomed by those attending whom we hope will feel safe and secure but also able to enjoy the best possible time at the racing."
Chester is the oldest operating racecourse in the world.
Racing started in Chester on Shrove Tuesday in 1539 and in nearly 500 years there have only been three major stoppages; the English Civil War, World War 1 and World War 2.  When racing was reinstated in 1946, the pent- up demand resulted in a record attendance of 103,993 racegoers on Cup Day.