An invitation to go anywhere is such a rarity at the moment, so when two come along at once and tasting new delicious menus is the offer there's a definite air of excitement.  Our joyous task is to taste the new dishes on the fantastic reopening menus for The Yard and The Suburbs, over two consecutive days … two full menus!
The Chester hospitality whirlwind, Kingdom Thenga, has, together with chef Carl Noller, created a delectable new menu for the reopening of The Yard with some awesome new dishes and, you'll be pleased to hear, have kept many of the old favourites. Kingdom as ever has an ambitious vision with The Yard setting his sights on it becoming the destination Italian restaurant for Chester and the team have elevated the menu with this goal in mind focusing on quality and special touches of deliciousness like their homemade bread.
Using only the highest quality ingredients and all freshly prepared, the new menu is truly delicious with many dishes lending themselves perfectly for sharing just gather your friends for a long-overdue lunch or dinner. With so much to look forward to we highly recommend that you book your table early to avoid disappointment.
The big plans for the future of The Yard mean it's an exciting time to revisit or if you have never been before, you're in for a real treat. Now over to the food and as a picture is worth a thousand words we'll let the food do the talking …
Day One – The Yard
Antipasti per due – Italian cured meats, olives, tomatoes, cheeses and breads. Just what you need to get the tastebuds going and perfect for sharing, whether as a starter or with a glass or two.
Insalata di carciofi marinati – marinated artichoke, orange fennel salad with orange dressing. A delicious light summer dish.
Pate di fegatio di pollo – chicken liver parfait with cherry and toasted brioche. Not only does this dish look pretty, but it's also pretty tasty too and is another dish calling out to be shared.
Zappe di crescione – Watercress Soup, blue cheese bon bons with crushed walnuts. Watercress + blue cheese + walnuts = 10/10.
Salmone stagionato – Limoncello cured salmon, pickled cucumber, chicory and radish salad. A delightfully light dish ideal to start or for a light lunch.
Capesante porri tartufo – Seared scallops, leek risotto, summer truffle. This tastes as good as it looks!
Pomodoro ripieno di fromaggio – Tian of goats cheese and Mediterranean vegetables. Excellent light dish and looks amazing too!
Branzino arrosto e panzanella – Roasted Seabass with Heritage tomato panzanella salad. This would make a great main course for a lighter bite.
Cozze piccant – Mussels gently cooked in a spicy tomato sauce with fresh herbs. It doesn't get any better, a glass or two with friends and a bowl of mussels to share.
Sanguinaccio – Black pudding scotch egg, apple and celeriac remoulade.  A very tasty new addition, that could easily be shared.
Burrata e arancia rossa – Buratta cheee from Puglia, blood orange, Manor Farm honey, coriander dressing. Fresh and light all you need is something chilled to accompany it.
That was just the beginning, now for the main courses …
Petta di pollo arrosto – Roast chicken breast, confit potato, pecorino and sweetcorn souffle, wild mushroom sauce. That souffle!
Zampetto di suini brasati – Braised pigs trotter stuffed with chicken mousse and ham, creamed potatoes and onions. If you want something tasty and filling, this is the dish for you.
Anatra arrosto – Roast duck slow roast peaches and fennel puree. Served pink with wonderfully crispy skin.
Scamone di agnello arrosta – Rosemary salt-crusted lamb rump, potato gnocchi, broad beans and peas. This is sure to become a favourite.
Sogliola al lemone – Whole Torbay sole, lemon and herb butter. A wonderfully light main, the fish needs nothing else.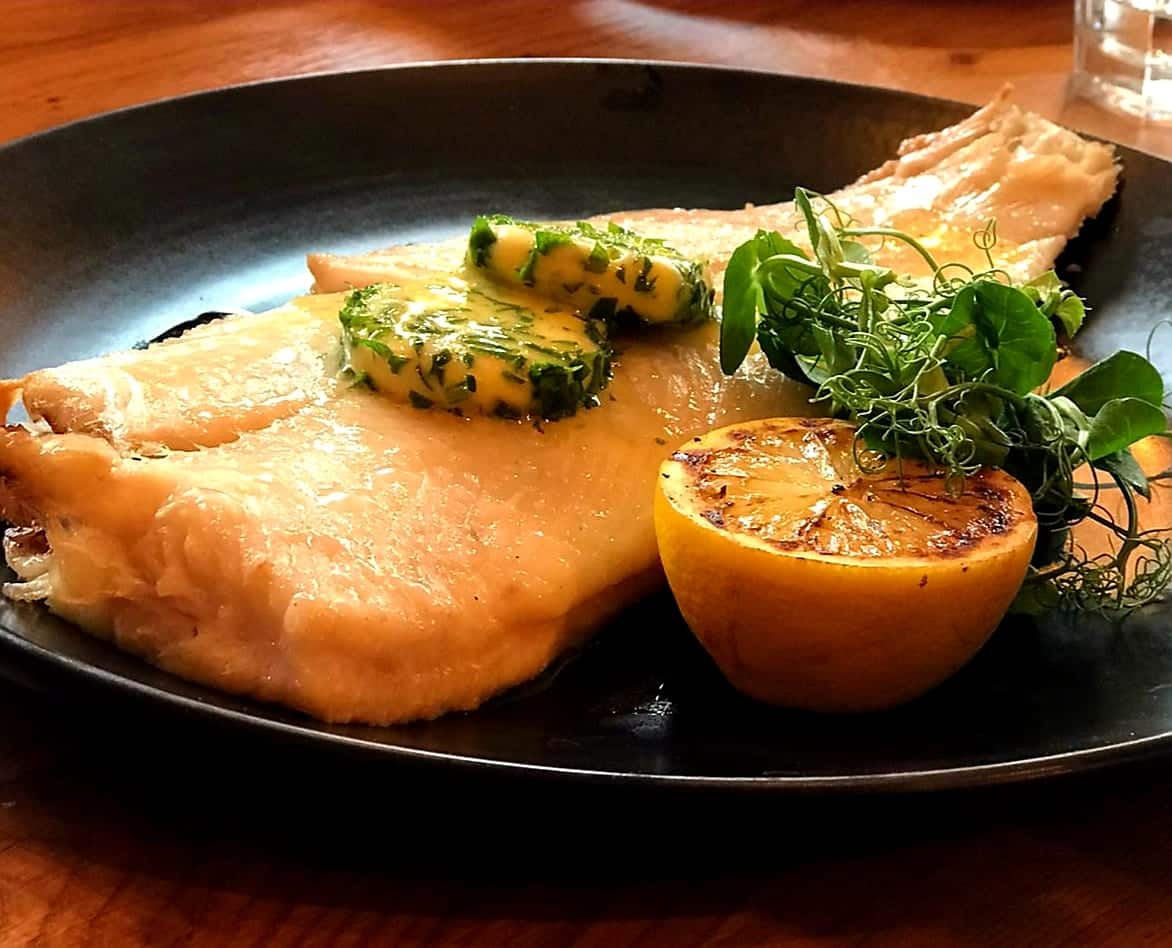 Cavolflore speziato – Spiced braised cauliflower steak, wilted spinach, golden raisin puree, caper vinaigrette. So tasty, and satisfying a must-try dish for non-vegetarians too.
Brodetto – Sicilian fish stew with saffron roulle. Another fish sensation – just add a glass of something chilled.
Just when you thought it couldn't get any more interesting … watch the video to see this dessert in all its glory! The-Yard-Lemon-Sorbet-Prosecco-Float
Galleggiante Prosecco – Lemon sorbet and Prosecco float
Coppa al cioccolato – Chocolate pot, vanilla ice cream, honeycomb – what's not to love.
Day one complete and what a taste sensation. Far too many favourites to pick out one outstanding dish – so you'll just have to keep visiting The Yard to try them all and work out your own favourite – Buon Appetito!