Chester Zoo has launched it's very own special gin infused with hand-picked ingredients from the zoo's plants just in time for Christmas – buy a taste of Chester Zoo from the new online shop.
Find out more from Chester Zoo here …
Chester Zoo has launched its very own botanical gin to give everyone a memorable taste of the zoo.
Infused with hand-picked ingredients from plants that feed the animals at the zoo, the ingredients reflect the zoo's work with rare plants in tropical landscapes.
Tom Culshaw, Senior Food and Beverages Manager at the zoo, said:
"The concept for the gin came from walking around the vast and amazing landscape of the zoo, taking in all the different gardens, varieties and species of plants that we have at our fingertips. Working closely with our botany and horticulture departments led to an organic idea of how we could further utilise what we have around us."
This 'truly special' gin promises to tickle the taste buds of any gin lover and can even grow wildflowers when the label, which is made from seed paper, is planted and watered.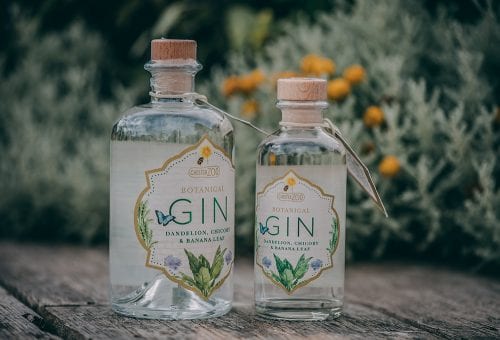 Curator of Botany and Horticulture at the zoo, Phil Esseen, added:
"The botanicals used in the Chester Zoo gin are carefully balanced to create a unique flavour and were selected to reflect the zoo's tropical landscapes, and our work with rare plants. For example, one of the more unusual flavourings in the gin is extracted from banana leaves. These were grown here at the zoo, where we use the hardy Japanese banana (Musa basjoo) to help create a tropical effect in our planting, particularly in our South East Asian islands habitats.
"We also use the leaves to wrap up different foods for feeding to the chimps, as part of their dietary and behavioural enrichment, and grow dandelions, another botanical in the gin, as it is a much loved part of our tortoises' diet."
With over 128 acres filled with thousands of different species of plants, at Chester Zoo, Phil Esseen and his team work on a variety of plant conservation programmes at the zoo and around the world.
Teaming up with The Secret Garden, a specialist Herb Nursery in Edinburgh and The Old Curiosity distillery,experts at the zoo combined their knowledge and passion to create unique flavours.
Tom Culshaw continued:
"We took a lot of guidance from The Secret Garden's team who spent time at the zoo with our plant experts; carefully selecting which botanicals would give us a bespoke product, and what would highlight the work the teams do to feed and enrich the animals. We wanted to make sure the ingredients would stand out and give us an exclusive taste profile. There was obviously taste testing… but we were happy to suffer for our craft, creating a truly special gin."
Located on the outskirts of Edinburgh, The Secret Garden is home to 7.5 acres of land, packed with fragrant herbs. Owner and herb specialist, Hamish Martin, advised on what ingredients would bring the gin to life, he said:
"Chester Zoo Gin is like no other gin. It has been inspired by all of the incredible animals and is made up of 11 botanicals we have specifically picked from the zoo banana leaves, chicory flowers and dandelion, all of which are used to feed the animals – so I suppose you could say the food that feeds the animals will become the spirit to fulfil your taste buds!
"The other botanics come from our own Secret Herb Garden where they are hand harvested, dried in our drying room and then expertly blended and distilled. The gin is all hand bottled and therefore a truly hand crafted spirit.
"It's a huge prestige for The Secret Garden and the distillery to be supplying Chester Zoo. We farm completely naturally with no chemicals whatsoever and truly love nature, values I know the zoo shares. We have had such fun creating this gin and it is a joy to be launching it now, and I am sure the visitors and supporters of the zoo will love it too."
Chester Zoo gin is available in 50cl and 20cl and can be purchased from The Oakfield restaurant at the zoo or via their new online shop, a brand new way of supporting the zoo's vital conservation work
There are so many wonderful shops to explore when you're Christmas Shopping in Chester and more than ever your local shops need your support this year.