If you're struggling to find the perfect Christmas gift or want to arrange a festive family get together that doesn't start in the pub (it may well finish there) then Treasure Hunt Chester has just what you need.  Find out more from Treasure Hunt Chester here …
Need a little Christmas? Right this very minute? Treasure Hunt Chester might just be your new favourite tradition! With twinkling lights and Christmas markets appearing around the country, could there be a better time for seeing a new place, or a very familiar place in a whole new way? Looking for a unique Christmas gift? Read on to find out about our vouchers.
Instead of three Christmas spirits, our Bess will be your guide and take you on a journey around Chester's past and present.
As you venture round the sidewalks, dressed in holiday style you'll be able to take some time to experience the magic of Chester decked out for Christmas. Our treasure hunt route shows you the highlights of Chester including hidden gems that others miss. Part tour and part game, Bess our Pirate host sends cryptic clues to your phone- mysteries to solve at every turn of your adventure.
The treasure hunt can be taken at your own pace, why not stop and have a mulled wine or a Bratwurst along the way – it is Christmas after all! Can't wait to get your Christmas off to a cracking start? Book here.
Organising the work do? 🍻🎄
If you've not booked your work's Christmas do yet, a treasure hunt might be just the thing. Do it as a group, or in teams- who can get to the end first? Last team to the pub gets the round in!
A brilliant gift- for all our Treasure Hunt locations 🎁🎅
This year may have been a busy blur, and if you're looking for a great gift that will suit all sorts of hard to buy for people- check out our gift vouchers.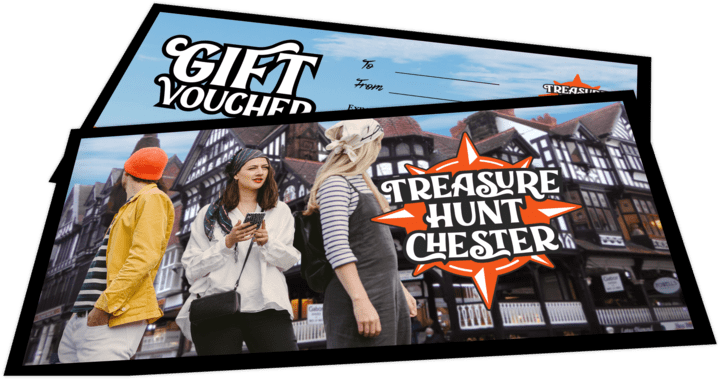 We've got games in 11 cities, so wherever your loved ones may be, they won't be far from one of our adventures!
We've had some delivered especially from the North Pole, from the big man himself (he knows our Bess- they go way back apparently!) They'll look the business tucked in a stocking, or under the tree. And don't worry, we've got plenty- you can even print them at home, or send them electronically!